ocument.Management.Solutions.
IMAGE ACCESS
THE DOCUVAN TEAM WOULD BE HAPPY TO HELP YOU FIND THE MOST EFFICIENT AND EFFECTIVE METHOD OF DOCUMENT SCANNING.

SCAN2NET® TECHNOLOGY AS THE BASIS OF THE BOOKEYE® BOOK SCANNER
MAJOR INTERNATIONAL BOOKEYE BOOK SCANNER INSTALLATIONS INCLUDE:
In National Libraries (India, Mongolia, Kazakhstan, Russia, Japan, Nigeria, Norway)
In National Archives (Venezuela, Seychelles, Estonia)
In universities (Queens University Belfast, Harvard University, USA, Benaras Hindu University in India, King Saudi University, University of Bratislava , Universidad de las Americas, Mexico)
In museums (The Museum of Modern Art, National Museum, New Delhi)
And in many, many other public and private institutions
The Scan2Net® technological platform forms the basis of all Bookeye® book scanners and WideTEK® large format scanners. Scan2Net® eliminates the need for proprietary drivers and interface cards and uses what is currently fastest, open connection to PC-based systems: TCP / IP over Ethernet.
Scan2Net® – the firmware kernel on all Image Access scanners – is compatible with operating systems such as Windows, Linux, Mac OS, Unix and all Web browsers like Internet Explorer, Safari, Chrome and Firefox.
The numerous new features of HTML5 markup language, which is already implemented in most browsers, further extend the capabilities of the scanners.
A 64 bit Linux-based, virus protected operating system enables faster internal processing of the image data and optimizes the scanning process.
The latest generation of Intel processors make Scan2Net devices highly energy efficient. Thanks to the 8 GB of RAM, very large volumes of data can be processed at remarkable speeds and virtually unlimited job sizes are possible.
All Bookeye® book scanners are CE, UL, cUL, WEEE, RoHS and Energy Star compliant.
Schematic overview of the Bookeye® book scanners key features and specifications
Bookeye® 4 V2 Basic is our cost effective entry level model, scanning with 400 dpi resolution in grayscale.
Bookeye® 4 V2 Kiosk is recommended for self service applications in public environments – for the occasional user who wants a quick and uncomplicated digital copy.
Bookeye® 4 V2 Office can be implemented as a shared departmental scanner. The fingerprint authentication function enables complex workflows.
Bookeye® 4 V2 Professional is ideal for both large and small digitization projects. Using the capturing software BatchScanWizard (BSW), Bookeye® 4 V2 Professional delivers brilliant scans of double sided A4 documents in less than 3.5 seconds with 600 dpi optical resolution. An optional TWAIN driver integrates the Bookeye® 4 V2 Professional with any capturing software on the market.
Bookeye® 4 V2 Professional Archive is suitable for digitization projects that require high quality and maximum productivity even in a 24/7 operation environment. As a special add-on to the Professional, there is a horizontally movable V-glass plate, with which the scan template can be positioned exactly in the book fold.
Bookeye® 4 V2 Semiautomatic adds a motor-driven V-glass plate to the features of the Professional Archive, which can easily be removed without tools or the need for a service technician.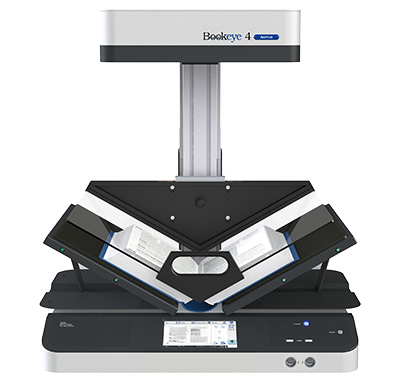 Bookeye® 4 Professional Archive overhead book scanner and book copier is suitable for digitization projects that require high quality and maximum productivity even in 24/7 operation.
Image Access
Image Access is a leading manufacturer of wide format scanners: book scanners, flatbed scanners and sheetfeed scanners.
Founded in 1994, Image Access is a technology market leader developing and delivering innovative large format scanners and digitization solutions to customers based in nearly every country across the globe.
Image Access scanners produce the highest quality image output at the fastest speed available in the large format market. We are committed to providing products with a focus on ecology and sustainability by using long-life LED illumination, ongoing compliance with electrical and ecological norms and standards, and through our own technological platform, Scan2Net® – a recognized standard for reliability, flexibility and ease of use.
Image Access is the only scanner manufacturer that offers products in all large format segments:
Overhead scanners for valuable books more than A1 in size
Flatbed scanners for formats greater than DIN A3 / 12.5×18.5 inches
Sheet feed scanners for documents between 36, 48 and 60 inches in width
Duplex scanners for high volume production of double sided scans up to 36 inches
Fine Art scanners for non contact overhead scanning of 36 x 60″
WideTEK 36CL

WideTEK48CL

WideTEK60CL

WideTEK36

WideTEK44

WideTEK48

WideTEK 36DS-600
Bookleye 4V3Kiosk

Bookleye 4V2

Bookleye 4V1A

Bookleye 4V1A-C35
Docuvan provide the secure document preparation and scanning services for corporate and government accounts across Australia."
RICHARD TAPPS- CEO
Document.Management.Solutions
Docuvan
Contact Us
The Docuvan Team travel all over Australia, undertaking scanning projects from 1 day to many months.  If you have sensitive or confidential documents you would like to scan, or some that you need access to on a daily basis, we would be happy to discuss your needs and put a solution together for you. This could be scanning them for you or helping you setup your own scanning solution! However, if you are happy for us to collect the documents and scan them in our secure facility in Melbourne we can help you with that as well.
Call to arrange a complimentary consultation