Overview
How it works
Advanced productivity for high-volume scanning
The fi-7900 achieves scanning speeds of 140 ppm/280 ipm (A4 landscape, color, 200/300 dpi), is capable of scanning up to as many as 120,000 sheets a day, and is highly optimized for centralized scanning.
The scanner is designed with operator usability as its first priority. It provides high quality technology for reliable scanning, a user-friendly design inherited from our high-end scanners, as well as enhanced image processing functions. Users can enjoy comfortable scanning while improving their work efficiency significantly.
Automatic Separation Control function and Skew Reducer to ensure stable feeding
Paper Protect function to prevent documents from being damaged
Stacking Control function and Elevator Stacker for easy paper collection from the stacker
Manual Feed Mode to scan various types of documents
Environment-friendly product certified with ENERGY STAR Version 3
Low profile design with operation panel and LCD for comfortable scanning
Cleaning Mode for easy maintenance
LAN network capability certified for Silex Device Server users
Comes with

 

PaperStream IP

 

and

 

PaperStream Capture

 

providing advanced image processing functions
PaperStream Capture Pro

 

available as an option

 Datasheet (2.09 MB )
Features
Enhanced productivity for high-volume centralized scanning work
Prevent errors with reliable feeding functions
The Automatic Separation Control function adjusts torque on brake rollers by observing the slip ratio of papers, that can differ slightly depending on frictional wear and the amount of dust stuck on the rollers. This reduces the need for manual torque adjustments and frees you from multi-feeds and paper pick-up issues.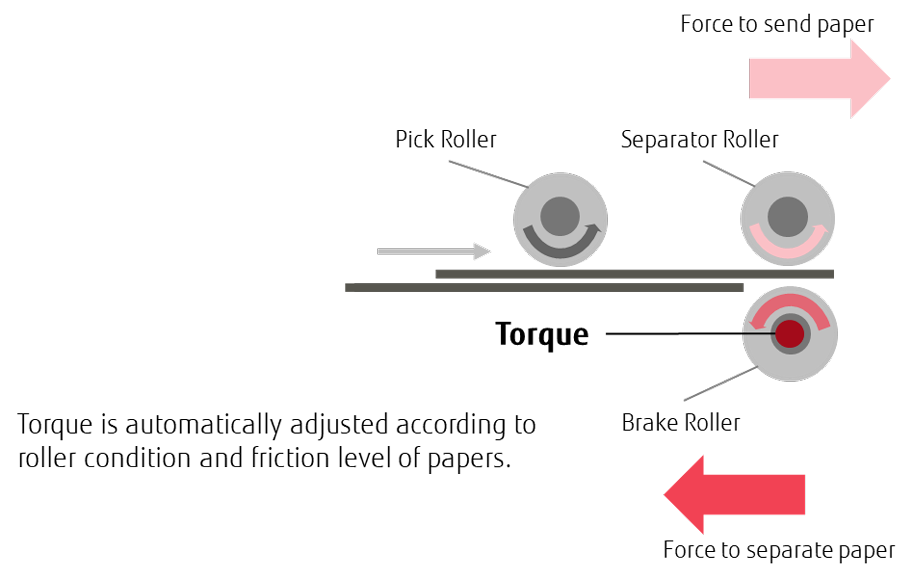 The Skew Reducer also helps improve feeding performance and prevents re-scanning that can result from document edges getting cut off.
Independent separator rollers ensure that a document that is skewed will not affect the alignment of following sheets.

Reduce workload before and after scanning
With the independent side guides, you can easily align edges of variously sized documents when loading them on the scanner.
The independent side guides can be adjusted to accommodate all paper sizes.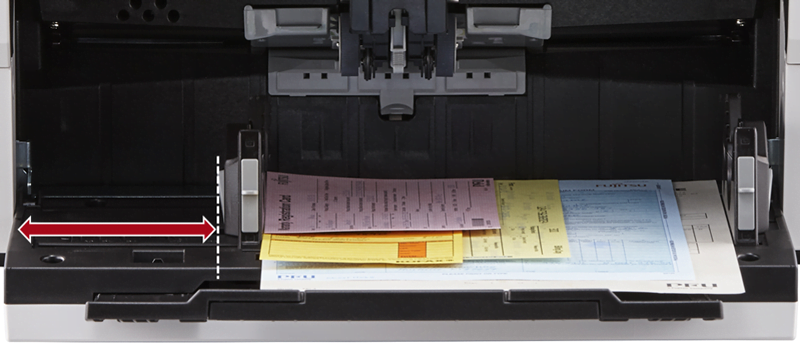 To ensure that documents are neatly stacked after scanning, the Stacking Control function controls paper output speed, and the Elevator Stacker automatically adjusts stacker position according to the amount of ejected paper. These functions make it easy for operators to collect scanned documents from the scanner.
Stacking Control function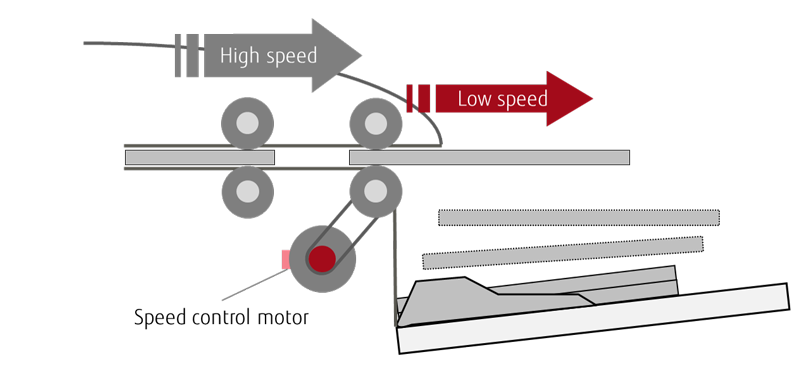 Elevator Stacker
The Elevator Stacker adjusts the height to keep the best position for paper ejected.

Scan any document with a single scanner
The scanner handles various types of business documents so that you can get all scanning work done with a single scanner. By simply changing the feed mode to Manual Feed Mode, you can easily scan thick documents such as drawings folded in half, multi-layered receipts, and envelopes.
Stress-free usability with an environment and user-friendly design
Environment-friendly
As a green product certified with ENERGY STAR Version 3, you can boost your productivity without any concern about impacting the environment.
Scan comfortably
By using the operation panel and LCD, operators can scan directly from the scanner with the job-registration function, and complete various operations such as adjusting scanning settings and checking existing error statuses.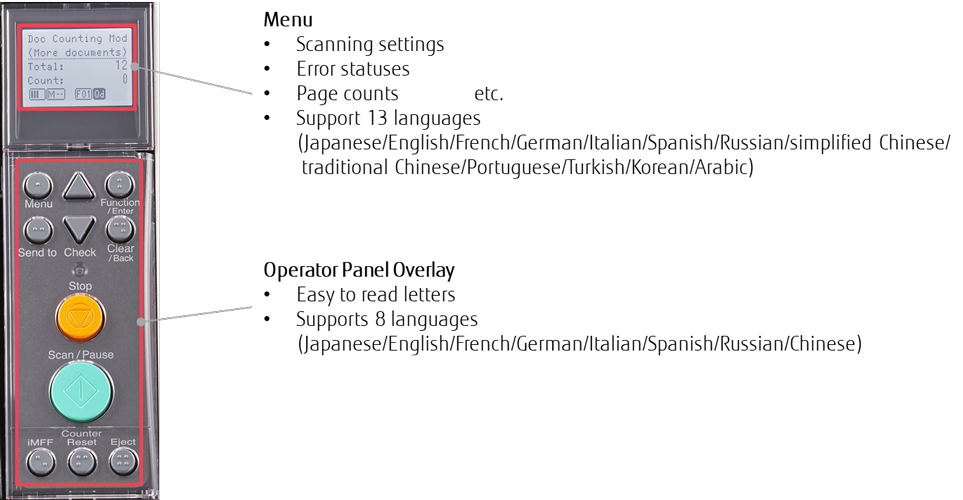 The scanner's low profile design enables comfortable scanning even while sitting down in your office. Its compact size requires minimum space so that you can enjoy using free space as needed for your own work.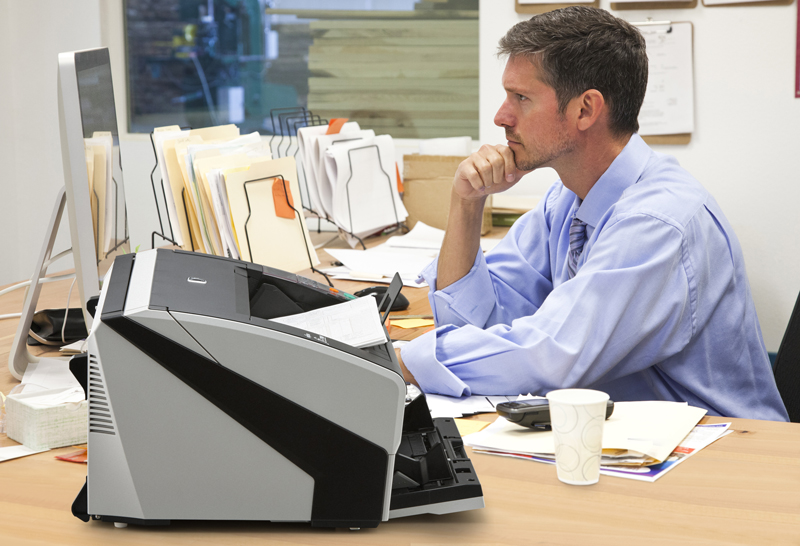 Clean the scanner easily
Cleaning Mode makes your maintenance routines much easier. The LED inside the scanner makes it simply easier to spot areas that need cleaning.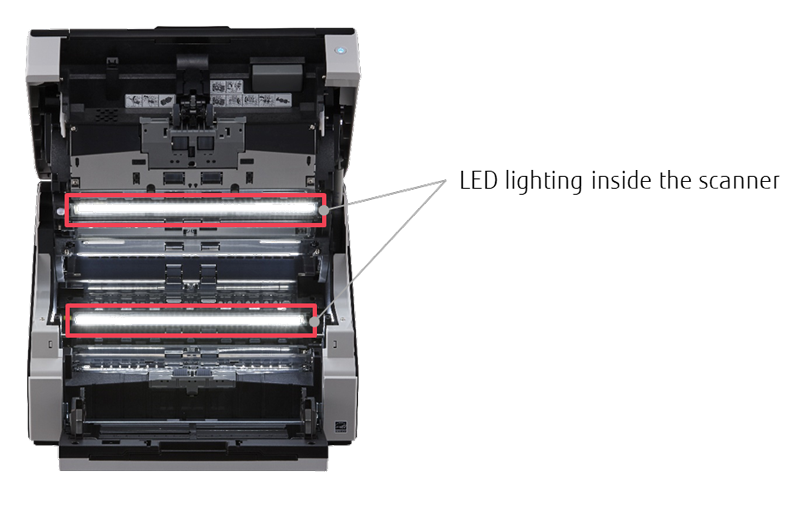 Effective data utilization with the advanced software
PaperStream IP, scanner driver for fi Series scanners, provides easier batch scanning and enhanced OCR. These functionalities work seamlessly with PaperStream Capture to offer a wider variety of batch scanning features and assist operators feed information into their organization workflows.
Convenient batch scanning
PaperStream IP offers functions for easy batch sorting through precise registration functionalities. After completing document format registration and setting configuration, the Automatic Profile Selection function recognizes document formats for each scanned document. Pre-set configurations are then utilized to specify image processing settings for each format. With this function, there is no need to adjust settings for every scan, even without the assistance of information like barcodes, separating documents.
*This function is available with PaperStream IP 2.0 and PaperStream Capture/Capture Pro 2.7.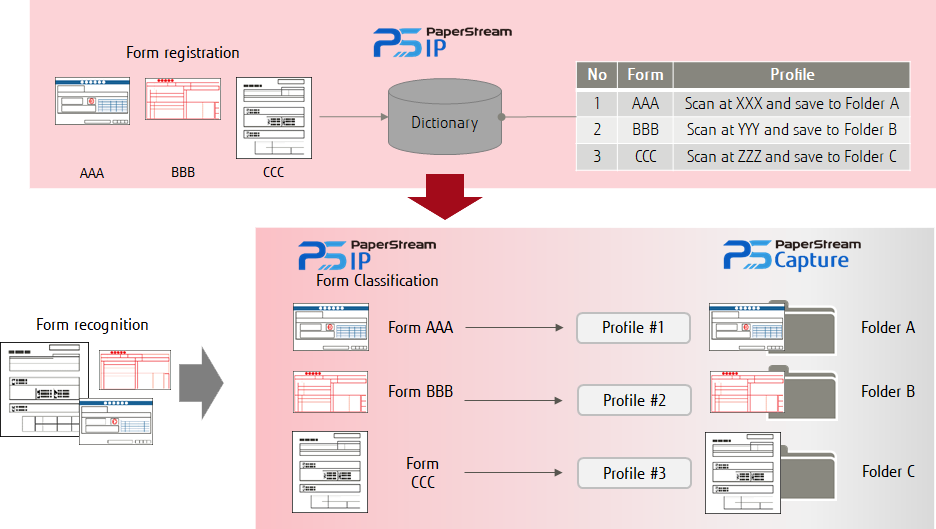 High OCR accuracy with binarization technology
PaperStream IP offers image processing technologies that contribute to more accurate OCR. Advanced Cleanup Technology enables stronger character recognition functionalities, by providing functions such as reversed type extraction, halftone removal and stamp removal. This technology allows you to fully utilize data from scanned documents.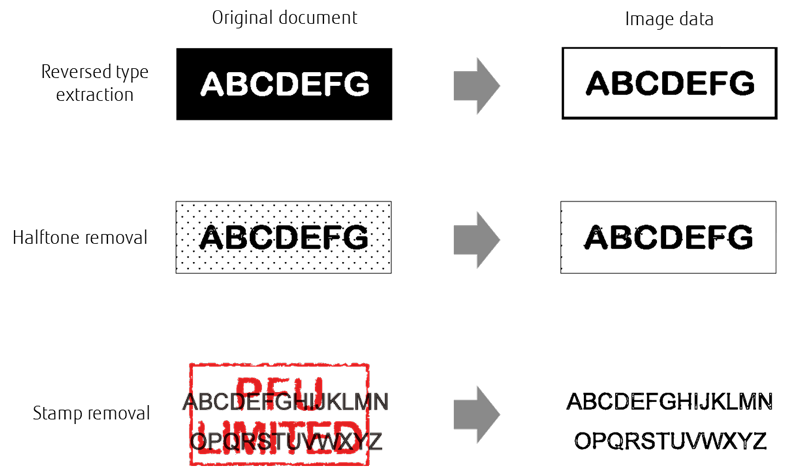 Advanced optional capture software
High-quality, front end scanning software, PaperStream Capture Pro enhances Fujitsu fi Series' superior scanning abilities with an improved feature set that includes options for high level data extraction and indexing, the import of electronic images, and support for multi-station licensing. As a distributed capture model, this scanner software captures your data without added costs and resources. This solution benefits organizations and departments that require an efficient yet easy way to convert paper documents into a digital file for high level data indexing and extraction.
*If you would like to use fi-7900 with other fi Series scanners using multi-station setting, driver and software version numbers should be aligned with those supported with other scanners.
Specifications
Product Name
fi-7900
Scanner Type
ADF (Automatic Document Feeder) / Manual Feed, Duplex
Scanning Speed (1) (A4 Landscape)(Color (2)/Grayscale (2)/Monochrome (3))
Simplex: 140 ppm (200/300 dpi)
Duplex: 280 ipm (200/300 dpi)
Scanning Speed (1) (A4 Portrait)(Color (2)/Grayscale (2)/Monochrome (3))
Simplex: 105 ppm (200/300 dpi)
Duplex: 210 ipm (200/300 dpi)
Image Sensor Type
Color CCD x 2 (front x 1, back x 1)
Light Source
White LED Array x 4 (front x 2, back x 2)
Optical Resolution
600 dpi
Output Resolution (4)
(Color / Grayscale / Monochrome)
50 to 600 dpi (adjustable by 1 dpi increments), 1,200 dpi (driver) (5)
Output Format
Color: 24-bit, Grayscale: 8-bit, Monochrome: 1-bit
Background Colors
White / Black (selectable)
Document Size
Maximum
304.8 x 431.8 mm (12 x 17 in.)
Minimum
52 x 74 mm (2 x 3 in.)
Long Page Scanning (6)
5,588 mm (220 in.)
Paper Weight (Thickness)
A4 to A5 Size
20 to 209 g/m² (5.4 to 56 lb)
Less than A5 Size / Over A4 Size
41 to 209 g/m² (11 to 56 lb)
ADF Capacity (7)
500 sheets (A4 80 g/m² or Letter 20 lb)
Expected Daily Volume (8)
120,000 sheets
Multifeed Detection
Overlap detection (Ultrasonic sensor), Length detection
Paper Protection
Lag detection
Interface
USB 2.0 / USB 1.1
Power Requirements
AC 100 to 240 V ±10 %
Power Consumption
Operating Mode
200 W or less
Sleep Mode
3.2 W or less
Auto Standby (Off) Mode
Less than 0.3 W
Operating Environment
Temperature
5 to 35 °C (41 to 95 °F)
Relative Humidity
20 to 80% (Non-condensing)
Environmental Compliance
ENERGY STAR®, RoHS
Dimensions (9) (W x D x H)
460 x 430 x 310 mm (18.1 x 16.9 x 12.2 in.)
Weight
32 kg (70 lb) or less
Supported Operating System
Windows® 10 (10), Windows® 8.1, Windows® 7, Windows Server® 2019, Windows Server® 2016, Windows Server® 2012 R2, Windows Server® 2012, Windows Server® 2008 R2, Windows Server® 2008 (11)
Included Software / Drivers
PaperStream IP Driver (TWAIN/TWAIN x64/ISIS), WIA Driver (12), PaperStream Capture, 2D Barcode for PaperStream (13), Software Operation Panel, Error Recovery Guide, Scanner Central Admin
Image Processing Functions
Multi image output, Automatic color detection, Blank page detection, Static threshold, Dynamic threshold (iDTC), Advanced DTC, SDTC, Error diffusion, Dither, De-Screen, Emphasis, Dropout color (None/Red/Green/Blue/White/Saturation/Custom), sRGB output, Hole punch removal, Cropping, Index tab cropping, Split image, De-Skew, Edge correction, Vertical streaks reduction, Character extraction, Background pattern removal, Automatic profile selection
Included Items
AC cable, USB cable, Setup DVD-ROM
Actual scanning speeds are affected by data transmission and software processing times.

Indicated speeds are from using JPEG compression.

Indicated speeds are from using TIFF CCITT Group 4 compression.

When scanning in high resolutions (500 dpi or above), scanning may be rejected depending on scanning mode, document size, memory size, and application program. Selectable maximum density may vary depending on the length of the scanned document.

Limitations may apply to the size of documents that can be scanned, depending on system environment, when scanning at high resolution (over 600 dpi).

Documents between 431.8 mm (17 in.) and 863 mm (34 in.) in length are limited to 400 dpi. Documents between 863 mm and 3,175 mm (125 in.) in length are limited to 300 dpi.

Maximum capacity depends on paper weight and may vary.

Numbers are calculated using scanning speeds and typical hours of scanner use, and are not meant to guarantee daily volume or unit durability.

With the ADF hopper closed.

fi Series scanners do not run with Windows® 10 ARM-based PCs.

Requires PaperStream IP 2.2.0 or earlier.

Functions equivalent to those offered by PaperStream IP may not be available with the WIA Driver.

Refer to the

 

fi Series Support Site

 

for driver/software downloads and full lineup of all supported operating system versions.
Accessories
 
Part Number
Description
Consumables
Pick Roller
PA03575-K011
Every 600,000 sheets or one year
Separator Roller
PA03800-K012
Every 600,000 sheets or one year
Brake Roller
PA03575-K013
Every 600,000 sheets or one year
Print Cartridge
CA00050-0262
4,000,000 printed characters or 6 months after opening the bag
Options
Post Imprinter (FI-680PRF)
PA03575-D201
Front-side printing on document
Post Imprinter (FI-680PRB)
PA03575-D203
Back-side printing on document
PaperStream Capture Pro Scan Station (MV)
PA43404-A695
PaperStream Capture Pro optional license
Warranty
Find out the details about your product's warranty and information on how to extend your warranty.
Warranty Information (Worldwide)
Fujitsu Production Scanners

Optimize your office space and place the scanner wherever needed, without the limitation of USB cable. We've added both Wi-Fi and Ethernet connectivity to our popular fi -7160 workgroup scanning platform, so the scanner can now be positioned to improve worker productivity and reduce interruptions.