Overview
How it works
Reliable paper handling with an ultra-compact and versatile design
The fi-7480 provides high quality technology for reliable scanning and enhanced image processing functionalities to significantly empower business workflows. Even with its compact size, the device scans A4 landscape documents at 80 ppm/160 ipm (200/300 dpi), and is capable of loading up to 100 sheets at a time and scanning up to as many as 24,000 sheets a day.
Skew Reducer to ensure stable feeding
Paper Protect function to protect documents from damage
Independent Side Guides for easy setting of mixed batches
Stacking Control function for easy paper collection after scanning
Manual Feed Mode to scan various types of documents
Backlit LCD for easy operation viewing
Comes with

 

PaperStream IP

 

and

 

PaperStream Capture

 

providing advanced image processing functions
PaperStream Capture Pro

 

available as an option

 Datasheet (1.88 MB)
Features
Reliable scanning for a seamless workflow
Designed with the straight paper path structure, the scanner ensures additional document placement during scanning, reducing interruptions between batches. This structure with multiple advanced functions provides very comfortable scanning, handling a wide range of documents.
Prevent multi-feed errors with reliable feeding functions
With brake rollers functioning as the fundamental mechanism to separate each sheet of paper for clean feeding, the scanner's high quality technologies provide reliable paper feeding. The Skew Reducer also helps improve feeding performance and prevents re-scanning that can result from document edges getting cut off. Even if papers jam, the Paper Protection function keep precious documents safe by detecting anomalies in sound and monitoring paper feed distance so that users can comfortably scan their important business documents.
Skew Reducer
Independent separator rollers ensure that a document that is skewed will not affect the alignment of following sheets.

Reduce workload before and after scanning
With the independent Side Guides, users can easily align edges of variously sized documents when loading them on the scanner. The Stacking Control function controls paper output speed and ensures that documents are stacked neatly after scanning, making papers slow down as ejected. These designs and functions make it easy for operators to set documents on the scanner and collect the scanned documents from the scanner.
Independent Side Guides
Each guide moves independently, so they can be easily adjusted to the document width in mixed batches.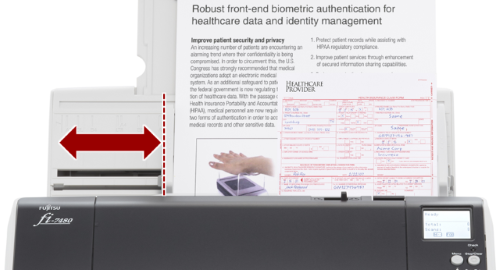 Scan any document with just one scanner
The scanner handles various types of business documents so that all scanning work can get done with a single scanner. By simply changing the feed mode to Manual Feed Mode, users can easily scan thick documents such as drawings folded in half, multi-layered receipts, and envelopes.
Stress-free usability with a compact and user-friendly design
Perfect for any office
As a very compact scanner, the fi-7480 will fit on any desk and is the ideal scanner for any office environment.
Easy and comfortable scanning operations
Use the operation panel and backlit display, to scan directly from the scanner with the job-registration function, and complete various operations from adjusting scanning settings to checking existing error statuses on the scanner itself.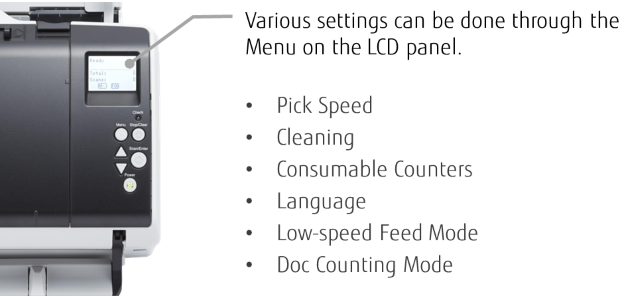 Advanced software for work efficiency
Connect business workflow with PaperStream IP and PaperStream Capture
The PaperStream IP scanner driver, supporting both TWAIN/ISIS, eliminates the need of making fine setting adjustments for OCR processes. It automatically converts images into exceptionally clean images, accelerating OCR even when scanning wrinkled, soiled and patterned documents.
With an intuitive interface, PaperStream Capture allows users to feed information into their organization's workflow through various capture features during batch scanning effectively and efficiently.
Streamline workflow with automatic functions
The software is designed to maximize administrator and user usability. Operation is simple to eliminate time spent on sorting scanned images and boost overall productivity.
Documents divided with barcodes and patchcodes are automatically sorted into appropriate folders with a few quick configuration processes. Automatic sorting allows users to load mixed batches while focusing on other tasks.
Utilize advanced optional capture software – PaperStream Capture Pro
A high-quality, front end scanning software, PaperStream Capture Pro, enhances fi Series scanners' superior scanning abilities with an improved feature set that includes options for high level data extraction and indexing, the import of electronic images, and support for multi-station licensing.
Specifications
Product Name
fi-7480
Scanner Type
ADF (Automatic Document Feeder) / Manual Feed, Duplex
Scanning Speed (1) (A4 Landscape)
(Color (2)/Grayscale (2)/Monochrome (3))
Simplex: 80 ppm (200/300 dpi)
Duplex: 160 ipm (200/300 dpi)
Scanning Speed (1) (A4 Portrait)
(Color (2)/Grayscale (2)/Monochrome (3))
Simplex: 65 ppm (200/300 dpi)
Duplex: 130 ipm (200/300 dpi)
Image Sensor Type
Color CCD x 2 (front x 1, back x 1)
Light Source
White LED Array x 4 (front x 2, back x 2)
Optical Resolution
600 dpi
Output Resolution (4)
(Color / Grayscale / Monochrome)
50 to 600 dpi (adjustable by 1 dpi increments), 1,200 dpi (driver) (5)
Output Format
Color: 24-bit, Grayscale: 8-bit, Monochrome: 1-bit
Background Colors
White / Black (selectable)
Document Size
Maximum
304.8 x 431.8 mm (12 x 17 in.)
Minimum
50.8 x 69 mm (2 x 2.7 in.) (Portrait)
Long Page Scanning (6)
5,588 mm (220 in.)
Paper Weight (Thickness)
Paper
27 to 413 g/m2

 

(7.2 to 110 lb)
A8 size: 127 to 209 g/m2

 

(34 to 56 lb)
Plastic Card
Up to 1.4 mm (7)
ADF Capacity (8)
100 sheets (A4 80 g/m2

 

or Letter 20 lb)
Expected Daily Volume (9)
24,000 sheets
Multifeed Detection
Overlap detection (Ultrasonic sensor), Length detection
Paper Protection
Lag detection, Sound detection (iSOP) (10)
Interface
USB 3.0 / USB 2.0 / USB 1.1
Power Requirements
AC 100 to 240 V ±10 %
Power Consumption
Operating Mode
43 W or less
Sleep Mode
1.4 W or less
Auto Standby (Off) Mode
0.35 W or less
Operating Environment
Temperature
5 to 35 °C (41 to 95 °F)
Relative Humidity
20 to 80% (non-condensing)
Environmental Compliance
ENERGY STAR®, RoHS
Dimensions (11) (W x D x H)
380 x 209 x 168 mm (15.0 x 8.2 x 6.6 in.)
Weight
7.6 kg (16 lb)
Supported Operating System
Windows® 10 (12), Windows® 8.1, Windows® 7, Windows Server® 2019, Windows Server® 2016, Windows Server® 2012 R2, Windows Server® 2012, Windows Server® 2008 R2, Windows Server® 2008 (13), Linux (Ubuntu) (14)(15)
Included Software / Drivers
PaperStream IP Driver (TWAIN/TWAIN x64/ISIS), WIA Driver (14), PaperStream Capture, ScanSnap Manager for fi Series (15), Software Operation Panel, Error Recovery Guide, ABBYY FineReader for ScanSnap™ (15), Scanner Central Admin, 2D Barcode for PaperStream (15)
Image Processing Functions
Multi image output, Automatic color detection, Blank page detection, Dynamic threshold (iDTC), Advanced DTC, SDTC, Error diffusion, Dither, De-Screen, Emphasis, Dropout color (None/Red/Green/Blue/White/Saturation/Custom), sRGB output, Hole punch removal, Index tab cropping, Split image, De-Skew, Edge correction, Vertical streaks reduction, Cropping, Static threshold
Included Items
ADF paper chute, AC cable, AC adapter, USB cable, Setup DVD-ROM
Actual scanning speeds are affected by data transmission and software processing times.

Indicated speeds are from using JPEG compression.

Indicated speeds are from using TIFF CCITT Group 4 compression.

Selectable maximum density may vary depending on the length of the scanned document.

Limitations may apply to the size of documents that can be scanned, depending on system environment, when scanning at high resolution (over 600 dpi).

Capable of scanning documents longer than A3 (297 x 420 mm / 11.7 x 16.5 in.) sizes. When using PaperStream IP (TWAIN/ISIS) to scan at 200 dpi, the maximum scanning length is 5,588 mm (220 in.).

Capable of scanning up to 3 cards at a time. (Note: does not set more than one embossed card at a time.)

Maximum capacity depends on paper weight and may vary.

Numbers are calculated using scanning speeds and typical hours of scanner use, and are not meant to guarantee daily volume or unit durability.

Intelligent Sonic Paper Protection.

Excludes the ADF paper chute and Stacker.

fi Series scanners do not run with Windows® 10 ARM-based PCs.

Requires PaperStream IP 2.2.0 or earlier.

Functions equivalent to those offered by PaperStream IP may not be available with the Image Scanner Driver for Linux and WIA Driver.

Refer to the

 

fi Series Support Site

 

for driver/software downloads and full lineup of all supported operating system versions.
Accessories
 
Part Number
Description
Consumables
Brake Roller
PA03710-0001
Every 200,000 sheets or one year
Pick Roller
PA03670-0002
Every 200,000 sheets or one year
Print Cartridge
CA00050-0262
4,000,000 printed characters or 6 months after opening the bag
Options
Post Imprinter (FI-748PRB)
PA03710-D401
Back-side printing on document
PaperStream Capture Pro
Scan Station (DP)
PA43404-A675
PaperStream Capture Pro optional license
Warranty
Find out the details about your product's warranty and information on how to extend your warranty.
Warranty Information (Worldwide)
Fujitsu Production Scanners

Optimize your office space and place the scanner wherever needed, without the limitation of USB cable. We've added both Wi-Fi and Ethernet connectivity to our popular fi -7160 workgroup scanning platform, so the scanner can now be positioned to improve worker productivity and reduce interruptions.