Compact design ideal for use at counter desks
The fi-65F designed for portability and compact spaces guarantees simple and fast scanning for a variety of identification and small cards.
One second scanning at 300 dpi
Coverless scanning with automatic functionalities for increased user productivity
Easy, one button touch scanning
USB power option for portability
Comes with PaperStream IP and PaperStream Capture providing advanced image processing functions
PaperStream Capture Pro available as an option
Features
Fast, reliable scanning performance for better productivity
The compact, lightweight fi-65F high-speed scanner is ideal for front office, reception, patient intake, and retail environments. It quickly scans all major types of identification and small cards, including driver's licenses, passports, military IDs, insurance cards, credit cards, photos, and small survey forms.
Capture details in just one second
The scanner delivers clean, crisp scans up to 105 mm x 148 mm (5.83 in. x 4.13 in.) in color, grayscale, and monochrome with true, 600 dpi optical resolution. When time is critical, users can scan documents at 300 dpi in monochrome or 8-bit grayscale in just one second, and 24-bit color scans at 200 dpi take just 1.7 seconds.
Precise scanning in any situation
The scanner increases user productivity with coverless scanning that eliminates the repetitive task of opening and closing the cover before and after each scan. Automatic deskewing, cropping, and rotating functionalities ensures that documents are scanned accurately even when the cover is open.
Stress-free usability for operators
Comfortable scanning with a user-friendly design
Equipped with the scan button on the front of the scanner, users can complete scanning work by simply placing a document and pressing the scan button. This helps users increase the speed of capturing multiple documents with minimal workload. High-speed USB 2.0 connectivity also combines outstanding performance and easy installation. Without the need of the AC cable, the scanner can be used in places where power supply is not available.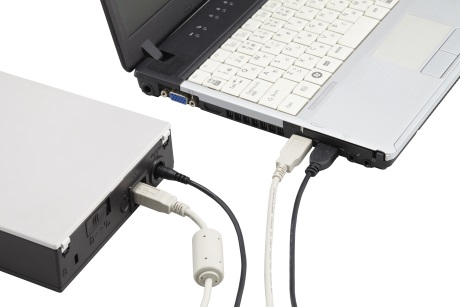 High impact scanning, low environmental impact
In keeping with long-standing commitment to safeguarding the environment, users can boost their productivity without any concern about impacting the environment. The fi-65F is a business scanner to adhere to ecological regulations throughout the entire manufacturing process. Its design and manufacture meet Energy Star's energy consumption requirements and the European Union's Reduction of Hazardous Substances and Volatile Organic Compounds regulations.
Advanced software for work efficiency
Connect business workflow with PaperStream IP and PaperStream Capture
The PaperStream IP scanner driver, supporting both TWAIN/ISIS, eliminates the need of making fine setting adjustments for OCR processes. It automatically converts images into exceptionally clean images, accelerating OCR even when scanning wrinkled, soiled and patterned documents.
With an intuitive interface, PaperStream Capture allows users to feed information into their organization's workflow through various capture features during batch scanning effectively and efficiently. Data from sources such as barcodes or zonal OCR can be used as a part of file name, or extracted for data retention and future use.
Utilize advanced optional capture software – PaperStream Capture Pro
A high-quality, front end scanning software, PaperStream Capture Pro, enhances fi Series scanners' superior scanning abilities with an improved feature set that includes options for high level data extraction and indexing, the import of electronic images, and support for multi-station licensing.
Specifications
Specifications
Product Name
fi-65F
Scanner Type
Flatbed, Simplex
Scanning Speed (1)
(105 x 148 mm / 4.1 x 5.8 in. / A6)
AC Adapter
Color: 1.7 seconds (200 dpi)
Grayscale/Monochrome: 1.0 seconds (200/300 dpi)
USB Bus-Powered
Color: 2.0 seconds (200 dpi)
Grayscale/Monochrome: 2.0 seconds (200/300 dpi)
Image Sensor Type
Color CIS (CMOS CIS)
Light Source
3 Color LED
Optical Resolution
600 dpi
Output Resolution
(Color / Grayscale / Monochrome)
50 to 600 dpi (adjustable by 1 dpi increments), 1,200 dpi (driver) (2)
Output Format
Color: 24-bit, Grayscale: 8-bit, Monochrome: 1-bit
Background Colors
Black
Document Size
Maximum
105 x 148 mm (4.1 x 5.8 in.)
Interface
USB 2.0 / USB 1.1
Power Requirements
AC 100 to 240 V ±10 %
Power Consumption (Power Cable Connection)
Operating Mode
8 W or less
Sleep Mode
2 W or less
Auto Standby (Off) Mode
0.5 W or less
Power Consumption (USB Bus Power Cable Connection)
Operating Mode
5 W or less
Sleep Mode
2 W or less
Auto Standby (Off) Mode
0.5 W or less
Operating Environment
Temperature
5 to 35 °C (41 to 95 °F)
Relative Humidity
20 to 80% (non-condensing)
Environmental Compliance
ENERGY STAR®, RoHS
Dimensions (3) (W x D x H)
145 x 234 x 40 mm (5.7 x 9.2 x 1.6 in.)
Weight
0.9 kg (1.98 lb)
Supported Operating System
Windows® 10 (4), Windows® 8.1, Windows® 7, Windows Server® 2019, Windows Server® 2016, Windows Server® 2012 R2, Windows Server® 2012, Windows Server® 2008 R2, Windows Server® 2008 (5)
Included Software / Drivers
PaperStream IP Driver (TWAIN/TWAIN x64/ISIS), WIA Driver (6), PaperStream Capture, Software Operation Panel, Scanner Central Admin
Included Items
AC cable, AC adapter, USB cable, USB bus power cable, Setup DVD-ROM
Warranty
Warranty
12 Months Fujitsu Australia Warranty.
Install/Training
Docuvan can provide a the whole solution including options for Install and Training.  We have many years experience with Bureaus and can offer advice and assist with training and install.
Rental
We offer a rental service for certain Sacnners.
Please contact us to enquire about this service:   [email protected]