[mk_padding_divider size="20″][mk_dropcaps style="fancy-style"]D[/mk_dropcaps]
Overview
Simple and Powerful Front-End Capture Software
PaperStream Capture Pro helps organizations ranging from small and midsized businesses (SMBs) to large enterprises reduce costs, minimize resources and increase business efficiency within their document scanning processes. It offers cost-effective improvement tools such as PaperStream IP for optimized image capture. This solution benefits organizations and departments that require an efficient yet easy way to convert paper documents into a digital file for high level data indexing and extraction.
A high-quality, front end scanning software enhances Fujitsu fi Series' superior scanning abilities with an improved feature set that includes options for high level data extraction and indexing, the import of electronic images, and support for multi-station licensing. It allows organizations to quickly translate paper-based data into valuable business information so they can easily manage, search for and leverage business critical content in their Enterprise Content Management (ECM) systems.
Features
Scalability to accommodate your organization's size and easy progress management of your business operations
By selecting the multi-station setting during installation, you can share identical settings with multiple users*1 and decentralize your operations. Without the need for a server, you can flexibly expand resources to suit your needs and your organization's structure and size, and efficiently spread the workload of your scanning operations. By using the batch list screen, you can remotely check the progress of your operations and reduce the administrative workload.
*1 A maximum of 7 stations can be used.
Multi-station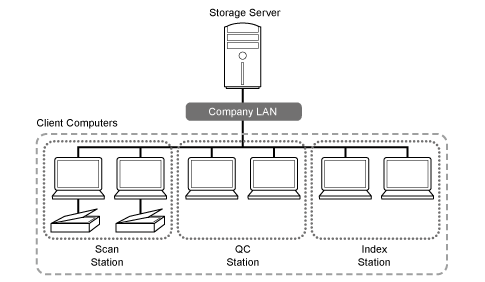 Batch list in Batch manager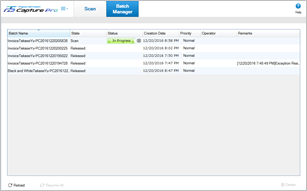 PaperStream Capture Pro comes with a perpetual license. This means you do not have to worry about costs that vary depending on page volume or frequency of use. You can freely use PaperStream Capture Pro as much as your organization or operations require.
Easy-to-use UI and functions that support your operation workflow
The UI of PaperStream Capture Pro is simple and easy to use. You can intuitively configure scanning profiles or templates by using a wizard, and start scanning with just one click on an icon. You can visually display files as thumbnails, and automatically detect and mark document with missing edge, multifeed, or blank pages so that you do not overlook them.
Profile setting by step for administrators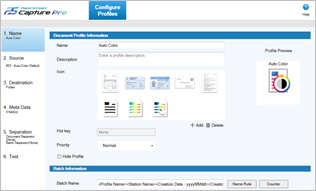 Profile icons for operators to start scanning with a single click


Scanned images in thumbnail view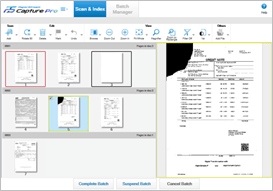 Available for fi-6800 / fi-6400 / fi-7700 / fi-7700S / fi-7600 / fi-7480 / fi-7460 / fi-7280 / fi-7180 / fi-7260 / fi-7160
You can use Barcode or Zonal OCR to specify document separation methods or extracted characters for file naming rules.*2 For document capturing tasks that tend to take time and effort, you can achieve smooth, error-free operation, while being able to improve efficiency.
*2 A maximum of 20 fields can be used.
Barcode or Zonal OCR for separation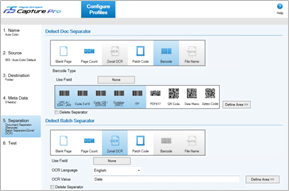 PaperStream Capture Pro now features improved and expanded capabilities to cooperate with your organization's backend operations after the capturing process. You can integrate PaperStream Capture Pro with remote folders, SharePoint, Box, and other third-party services, or develop your own integration features in order to facilitate the use of scanned images for various operations.
Various destinations for backend operations


Use the advanced image processing functions of the PaperStream IP dedicated driver
By integrating the dedicated driver for the fi Series image scanners for professional use, PaperStream IP, a variety of functions becomes available. These include After Scan Correction (ASC), a function to realize high quality image correction without the need for rescanning. PaperStream IP's functions remove the need to manage original documents for QC use, and it allows easy output of optimized image data, resulting in less workload for operators.
After Scan Correction (ASC)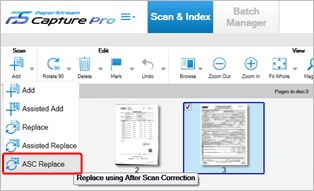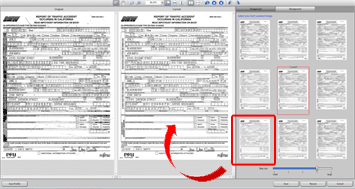 You can use the advanced image processing functions of PaperStream IP for imported image files*3 that are generated by devices other than scanners.
*3 For importing, an additional paid license is required.
Import option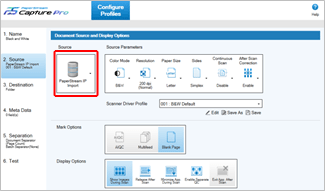 From setting to scanning and releasing, PaperStream Capture Pro answers your needs and provides flexible solutions for your business operations. It increases the efficiency of your document capturing process and delivers a seamless, high-quality workflow.
Specifications
Product
PaperStream Capture Pro
Recommended for these Scanners
fi-7300NX / fi-7160 / fi-7260 / fi-7140 / fi-7240 / fi-7030 / fi-65F / fi-6110 / fi-6140Z / fi-6240Z / fi-6130Z / fi-6230Z / fi-7180 / fi-7280 / fi-7480 / fi-7460 / fi-5530C2 / fi-5950 / fi-6800 / fi-6400 / fi-7700 / fi-7700S / fi-7600 / fi-6770 / fi-6750S / fi-6670 / SP-1425
Key Features
File Output
PDF, PDF/A, PDF with OCR, TIFF(Single / Multi-page), JPEG, JPEG2000, BMP
Optical Character Recognition
Yes ( Japanese, English, French, German, Italian, Spanish, Portuguese, Russian, Simplified Chinese, Traditional Chinese, Korean, Turkey, and Arabic )
Driver Support
PaperStream IP TWAIN
Batch Scan
Profile Editor Settings (Name rule, Linking, etc), Batch lock, & Hotkey setting
Editing
Rotate, page movement, and page deletion
PDF Insertion
PDF compliant with ISO32000-1
Batch Suspend and Review
Yes
Display
Multipage View and Thumb Nails All-In-One view
Linkage
FTP, SharePoint® Server 2007, SharePoint® Server 2010, SharePoint® Server 2013, SharePoint® Server 2016, Box
Barcode
(1 Dimensional)
UPC-A/EAN/JAN, Code 3 of 9, Code 128/EAN128,
Codabar (NW7), ITF
Barcode
(2 Dimensional)
PDF417, QR Code, Data Matrix, Aztec Code for departmental scanners and above
Indexing
Preset data (Date, time, File name, Page #, Zone OCR, & Barcode, etc) to XML, CSV, or Unicode TXT
System Requirements
Operating System
Windows® 10 32-bit/64-bit
Windows® 8.1 32-bit/64-bit
Windows® 7 32-bit/64-bit (SP1 or later)
Windows Server® 2016 64-bit
Windows Server® 2012 64-bit / 2012 R2 64-bit
Windows Server® 2008 32-bit/64-bit / 2008 R2 64-bit
CPU
Intel® Core 2 Duo 2.33 GHz or higher
*Recommended: Intel® Core™ i5 (2.5GHz or higher, except for mobile)
Memory
2GB or more *Recommended: 4GB or more
Disk
10GB or more
*Enough disk capacity is necessary for the saved file when scanning.
Display
1024 x 768 Pixels or more
Software
.NET Framework 4.5
*To use PaperStream Capture Pro, PaperStream Capture 2.1 is required.
Please follow and like us: