Document.Management.Solutions.
DOCUMENT management
THE DOCUVAN TEAM WOULD BE HAPPY TO HELP YOU FIND THE MOST EFFICIENT AND EFFECTIVE METHOD OF DOCUMENT SCANNING.
Docuvan specialise in all facets of Document Management.  This can cover providing basic bureau imaging services through to the supply, installation and training of full document management solutions, incorporating software, hardware and services.  No matter how big or small your requirement, we can help you with a solution.
Many companies are finding it difficult to manage their paper records efficiently and effectively. They are incurring significant costs by relying on a paper filing system.
Information has become too difficult and time consuming to manage. Businesses are looking to improve their businesses processes through improved storage and workflows. There is an opportunity to introduce a Document Management System to improve access to critical files.
Proposition (further challenges)
Businesses face several challenges in tackling the move to a Document Management System.
• records are often highly sensitive,
• existing processes cannot be interrupted,
• active files are frequently accessed and changed,
• there is often a mix of electronic and paper files and
• significant changes to the business are required (change management)
The Solution (execution)
Docuvan will work closely with you to identify your requirements and develop a solution that will meet the unique requirements of your business. This involves understanding your existing processes and the current status of your filing system.
Docuvan will then scan and index any backlog files and sort any existing electronic documents. This allows the businesses to migrate to the new Document Management System. Paper files can then be destroyed or put into storage depending on legal and business requirements.
Next, Docuvan will then implement and train users in the Canon's Therefore Document Management Solution to deliver more efficient access to critical files. We will endeavour to make the process of transition to an electronic system as seamless and smooth for those involved.
The Outcome
The introduction of Document Management System (DMS) will lead to the following benefits:
1. The integrity and continuity of documents is preserved: Documents remain complete and accessible despite changes to the business organisation, personnel or document keeping technology
2. Efficiency: A DMS will reduce time spent searching for information. A search does not have to be linear like with paper files. With a system you can search multiple terms at once.
3. Communication: a common filing language fosters cooperation in the retrieval and exchange of information throughout the business and its different departments
4. Document Retention and Disposal: With an appropriate backup strategy in place, the electronic system will protect your critical files in the event of a disaster. The system can also separate documents with different retention times to assist in retention and disposal activities.
The Process (Docuvan's Onsite Scanning Service)
Docuvan's onsite scanning service helps to overcome some of the challenges associated with scanning sensitive files:
• By scanning onsite your documents remain on your premises therefore the files remain secure and confidential
• If a file is required during the scanning process we can provide the paper document quickly and easily as we are 'just down the hall'. Thus, the disruption to existing processes is limited.
• Further, by being onsite the number of documents being prepared and scanned at a particular time can be minimised.
About
Docuvan was established in 2001. Based in Melbourne we offer convenient onsite and traditional bureau scanning services in all Australian capital cities and most regional centres.
Docuvan has a broad range of experience with many different industries. We have worked with banks, utilities, government (local, state & federal), manufacturers, wholesalers, retailers, medical and insurance providers.
We have developed partnerships with recognised names in the industry such as Image Access, Fujitsu, Kodak, Canon, Iris, PixEdit, CloudPlus, Frisk and HP.
The name Docuvan is derived for the origins of the business where we provided our scanning services from a van. The vehicle, which is still used today, has all the necessary equipment and software installed on board. Since our service can be mobile we can come to your location and either scan onsite in your offices where available or in the van. Your documents remain secure as they never leave the premises. Docuvan uses the best equipment and software available, on par with what is used by largest corporate entities globally. This means smaller business can access the same quality, speed and accessibility without the large capital investment.
Docuvan provide the secure document preparation and scanning services for corporate and government accounts across Australia.
If it is deemed part of your core business, Docuvan can supply, install and train you to operate your own scanning solution to integrate with a document management solution. Our solutions are scalable and we offer a wide variety of options to suit most budgets.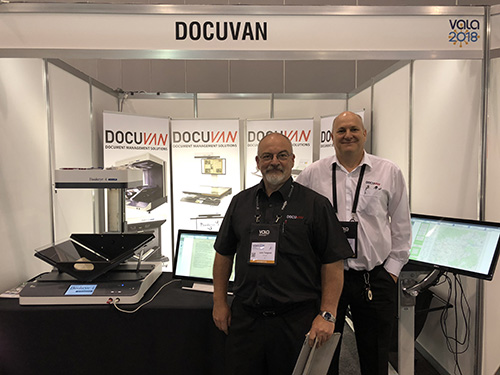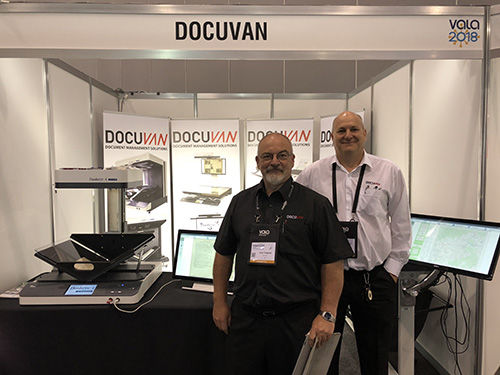 Docuvan provide the secure document preparation and scanning services for corporate and government accounts across Australia."
RICHARD TAPPS- CEO
Document.Management.Solutions
Docuvan
Contact Us
The Docuvan Team travel all over Australia, undertaking scanning projects from 1 day to many months.  If you have sensitive or confidential documents you would like to scan, or some that you need access to on a daily basis, we would be happy to discuss your needs and put a solution together for you. This could be scanning them for you or helping you setup your own scanning solution! However, if you are happy for us to collect the documents and scan them in our secure facility in Melbourne we can help you with that as well.
Call to arrange a complimentary consultation